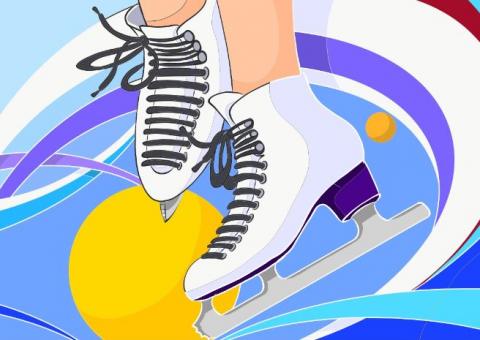 1201 Appleby Line
Burlington, Ontario
Canada
L7L 5H9
905 335 7600 ext. 7352
Everyone Moves
Everyone Moves, 2019
Jacob Pacaud (Burlington, Ontario)
Acrylic and latex paint on panel
Hockey, sledge hockey and ringette players, recreational and gure skaters; everyone moves on ice. The design of this mural illustrates movement with large, curved and intertwined areas of colour. The movement of these areas is enlarged, zooming in around the basic elements of skates, a hockey stick, puck and ring. Life is so overwhelming and full of choices. Especially when you are young. As such, the artist simplied his artwork to the basic elements to remove some of that chaos. By enlarging these elements, people can look closely and appreciate the simplicity of movement. The use of blues, purples and white represent the coolness of ice.
The Local Artist Program is designed to tell local stories using local artists. The 2018 program commissioned two medium-scale installations throughout the city. These commissions were open exclusively to Burlington artists. Free professional development opportunities were offered to assist artists with the application process and project development.
For more information about the City of Burlington's Public Art program, visit burlingtonpublicart.com.
Business Information
Business Type: N/A
Request ownership of this listing