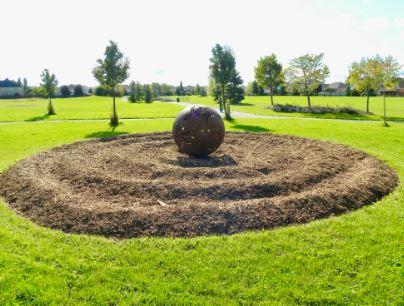 4050 Berton Avenue
Burlington, Ontario
Canada
L7M 0B1
905 335 7600 ext. 7352
Ecological Impact
Ecological Impact, 2018
Carol Nasvytis (Burlington, Ontario)
Plasma cut corten steel, earthwork
Ecological Impact explores the importance of the honeybees in our day-to-day lives. The metal sphere sculpture features designs showing the flight of the honeybee. Honeybees and other pollinators are important to our food chain and have come under increasing threat from pesticides, habitation loss and climate change. If we were to lose them, ramifications would be felt all the way through the food chain and our natural ecosystem.
The ripples in the earth around the sphere represent the shockwaves that would be felt through our ecosystem, food production, and ultimately our diets should we "drop the ball" and lose our pollinators.
The Local Artist Program is designed to tell local stories using local artists. The 2017 program commissioned two medium-scale installations throughout the city. These commissions were open exclusively to Burlington artists. Free professional development opportunities were offered to assist artists with the application process and project development.
For more information about the City of Burlington's Public Art program, visit www.burlingtonpublicart.com
Business Information
Business Type: N/A
Request ownership of this listing